Jeju Fire Festival is a representative cutural festival related to Jeju's culture of livestock care. Held every March at Saebyeoloreum Volcanic Cone, the night sky lights up with fire red. The festival features media façade show, torch march, fire show and more as well as various programs and food trucks.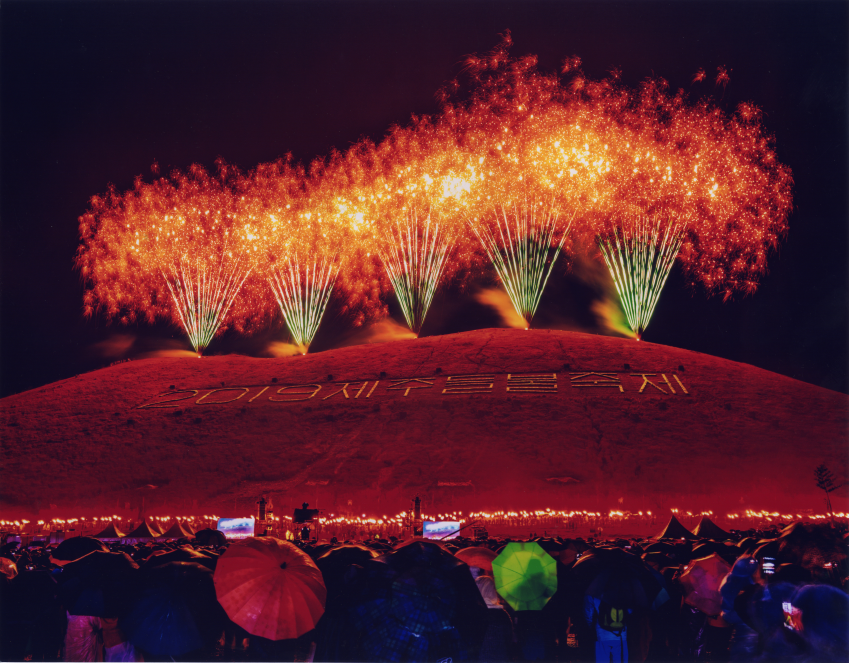 There is an annual fire festival on the island that stems from a custom of removing harmful insects and old grass in villages in winter. The fire festival is held on the fifteenth day of the first lunar month. Dal-gip (to pile up much wood) is burned when the moon rises while praying for good harvests and making good wishes. Jeju traditional food is eaten at the site of the festival. This festival was held 13 times until 2009. The "Jeju Jeongwol Daeboreum Fire Festival" started in 1997 and become a leading festival of Jeju. This takes place in Saebyeol Oreum in Bongseong ri, Aewol Eup. It takes up to 25 minutes to reach it from Jeju International Airport by car. Jeju citizens do their utmost to prepare the Fire Festival so as to pass down, develop, and ultimately develop branding for the unique folk culture resources of Jeju.
Saebyeol oreum has a characteristic of a complex volcano. It has a horseshoe-shaped crater that is both very wide and slightly split. It rises high with the little peaks making an oval from the south peak to northwest. The scale is above sea level 519.3 meters (1,704 ft), height of 119 m (390 ft), circumference of 2,713 m (8,901 ft), area of 522,216 m2 (0.201629 sq mi). Saebyeol oreum is the middle size among the 360 oreums on Jeju island. It is named after the saying "it brightens like a star."