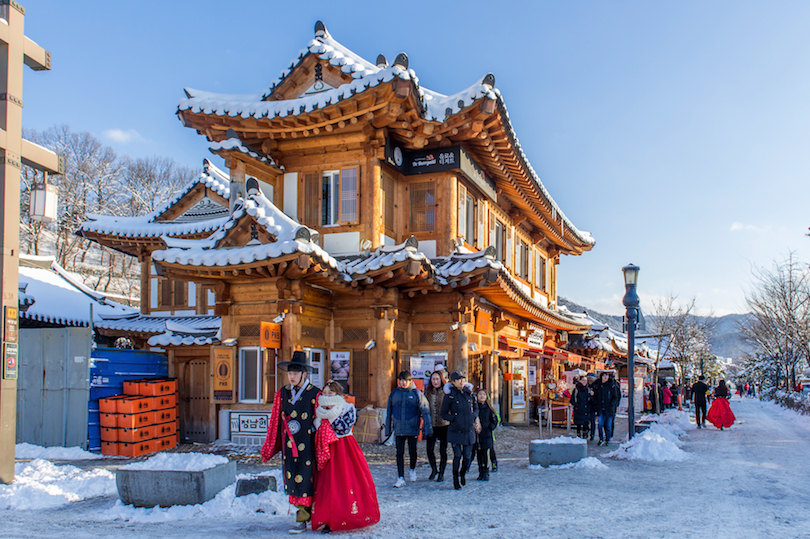 At the peak of the Joseon Dynasty, Jeonju was its spiritual capital. Today, Jeonju is filled with temples and museums and is one of the best places to visit in South Korea. If you want to embrace the local culture and get to know its history, make your way to the Jeonju Hanok Village.
The 16th largest city in South Korea and the capital of North Jeolla Province. It is both urban and rural due to the closeness of Wanju County which almost entirely surrounds Jeonju (Wanju County has many residents who work in Jeonju). The name Jeonju literally means "Perfect Region" (from the hanja 全 (전; jeon) for perfect, 州 (주; ju) for the region). It is an important tourist center famous for Korean food, historic buildings, sports activities, and innovative festivals.
There, you can see traditional homes from the early 20th century, make the traditional Hanji paper or sip the locally made soju. Another popular attraction in the city is the impressive Jeonju National Museum, home to a staggering collection of artifacts. While in Jeonju, try the famed Korean dish Bibimbap, which originally comes from this region.
Transportation
Many city buses and taxis are available in Jeonju. However, tourists are often advised to walk between points of interest, as many attractions are near each other.
Food
Jeonju bibimbap 전주비빔밥, a traditional local food, is well known across South Korea. There are several very popular vegetarian restaurants serving Jeonju style food and fine wine.